The reservation system from landlords for landlords
If holiday home, holiday apartment, group house or guest room – RESSYX is the right tool!
From the reservation inquiry to the actual booking RESSYX manages your reservation calendar and supports you in all stages of the reservation process. Even when you are not available your potential guests can view vacant rooms and make a reservation directly on your website.
The convenient customer management system always shows you the current customer information and lets you sort customers by groups and view the latest reservations.
But that is not all! With the basic version of RESSYX you can manage one object (holiday apartment, room, house etc.) for free! Test your new reservation system now!
RESSYX – because it simply works!
Your digital reservations calendar simplifies the management – in the office and on the go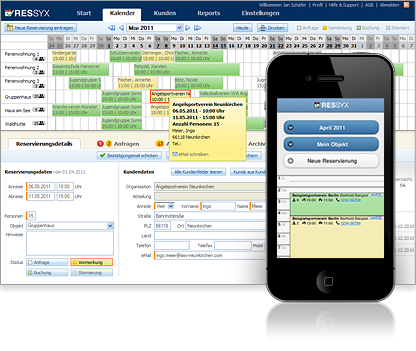 RESSYX has been developed in close co-operation with customers like yourself. So everything is adapted to the needs of the landlords. Clear presentation of several reservation items at a glance, self-explanatory forms and in case you are stuck we offer extensive assistance and unparalleled support.
All reservations at a glance
Clarity is convincing – the occupancy and extensive reservation details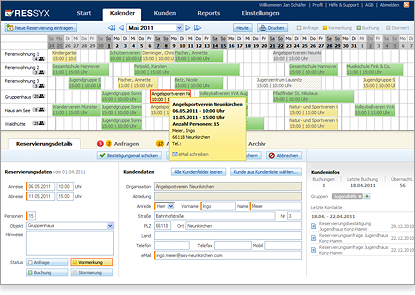 The occupancy displays the monthly reservations at a glance – and even more: Customer names, arrival and departure times, number of persons and individual notes… Everything well arranged in one view.
Simply manage everything during the day
Rooms, equipment, vehicles, boats, doctors' appointments, wellness services, etc.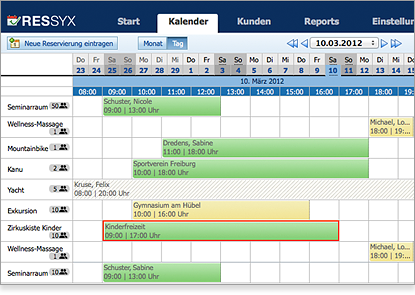 Whether you want to manage overnight stays, business premises, tables, equipment, seminars or your bowling alleys, RESSYX offers you the possibility to make bookings in 15-minute units. As a result of that short time interval RESSYX can be used for many purposes. There is no limit to your creativity!
Create bills – Directly with RESSYX
For even more convenience while billing and reservation processing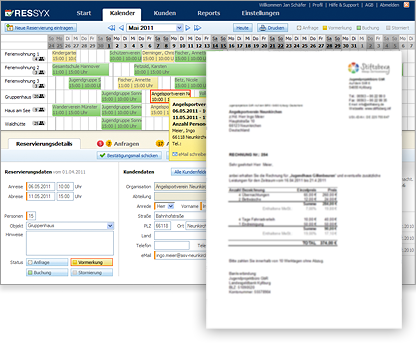 The billing feature of RESSYX allows you to send bills directly to your customers. The bill is highly customizable and therefore offers you great flexibility. Of course you can also create and send admonitions. For easy handling you can export your bills as a PDF.
Occupancy calendar with online reservation for your website
Your butler on your homepage never takes a day off and is available 24 hours
Summary of the special features
Integrate your occupancy and your reservation inquiries
directly into your homepage
with the
online reservation calendar.
Your customers can make reservations directly on your page!
You do not need new homepage for this but only some knowledge of HTML. In case you have questions just take a look in our detailed and comprehensible help.
If you have a website display all your objects in a one-monthly-overview. When only having limited space available on your website a narrow version of the calendar can also be integrated.
Convenient customer management
All customers with customer groups and detailed information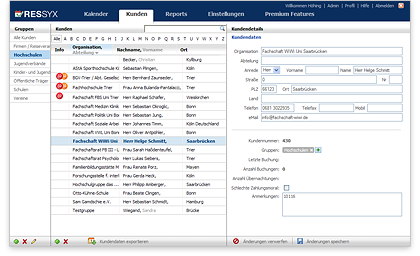 RESSYX offers a powerful customer management system to save your customers with all relevant information. In addition you receive further features such as the arrangement in customer groups, assessment of customers based on the display of his previously booked overnight stays and much more. It is of course possible to export all customers' information in csv format. We offer (subject to charges) to import your customers'data into RESSYX upon request.

Export the customers' data acquired via RESSYX at any time

Easily arrange your customers into groups
Security throughout the entire work flow
The secure reservation system: SSL encryption and daily backups!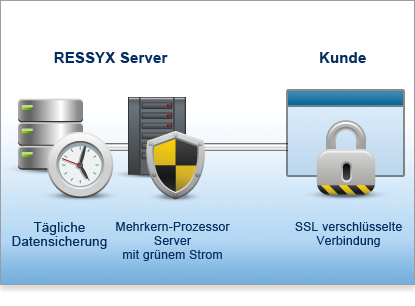 The connection between your browser and RESSYX is SSL encrypted and thereby heavily protected. Moreover we perform a daily backup of the entire database. Should the system malfunction there always is a backup not older than 24 hours. This is how a reliable reservation system works!
Comprehensive reports and all the facts
Who are your best customers and where you can optimise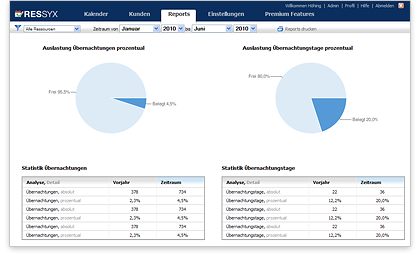 How is my occupancy developing? Who are my best customers? To what percentage am I booked? How was the previous year? The premium version of the RESSYX is a powerful instrument to analyse your occupancy and to increase your utilisation. If you are obliged to collect data for a lodging statistics RESSYX also takes care of that for you. In the reports section simply pick out that information at the turn of the month.
User, role and rights management
The reservation system with the suitable rights for every user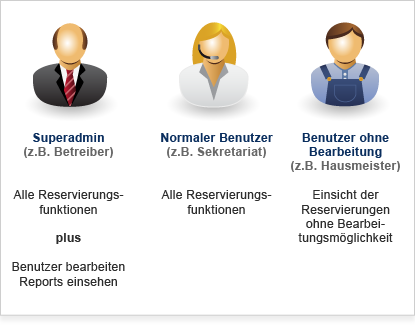 RESSYX provides your users/employees with the rights suitable for their position. You, the owner of course have all rights. For example your office does not neccessarily need to have new user accounts: So employees who are only responsible for the preparation of the rooms only require to see the next reservations and the details without being able to change them.
Your occupancy calendar: convenient on paper and as PDF
Easily print a detailed occupancy for your employees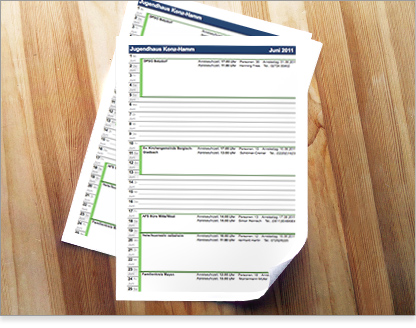 Sometimes it is easier to have the occupancy on paper. Either using it as an overview or to issue the occupancy to your employees for room preparation. With the premium version of RESSYX you will get a printer friendly occupancy for creating PDFs or printing on paper.
A reservation system for your pocket
Always have the occupancy on your smart phone wherever you are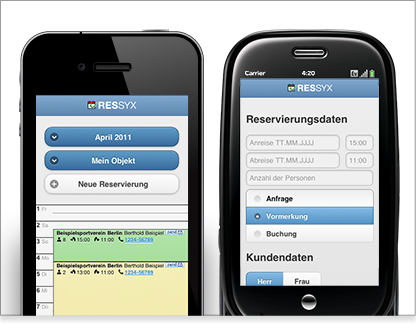 Now you always have your occupancy calendar with you! Use RESSYX without installation not only on every computer with internet connection but also on all smart phones and tablet PCs with internet connection. Whether it is an iPhone, iPad, Android, Palm, Blackberry etc. you have access to your occupancy at any time. React and respond directly to reservation inquiries, answer questions and make bookings with your smart phone on the go.
Log in with your credentials on your smart phone at
https://ressyx.com/login/
.
It cannot be easier than that
Our user interface is optimised for effective and efficient handling providing you an ideal overview of your reservations! View an entire month including a week before and after –  for every reservation item! Enter new customer information or select existing customers from the database with a few clicks. Test it for yourself!
RESSYX offers even more advantages
No unnecessary inquiries for reservation items which are already occupied

24 hours availability

Reservation management system from inquiry to booking

Integrated occupancy calendar in your own website

Customer management with user groups

Many features even in the free version
Premium version with additional powerful features
Unlimited number of reservation items

Multiple users including rights management

Extensive reporting

Printer friendly occupancy calendar (e.g for your employees)
All brand names, trademarks and registered trademarks used here are properties of their rightful owners. They only serve the purpose of description or the identification of the respective firms, products and services.