RESSYX – Online Booking System & Reservation Software
Try our Free and Easy Online Reservation Tool for all businesses!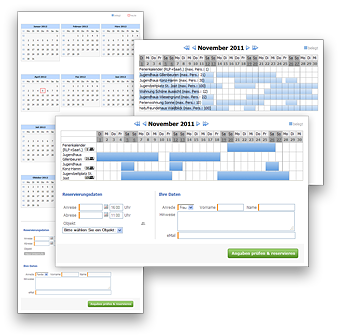 Many reservation calendars with booking forms to select from for your website.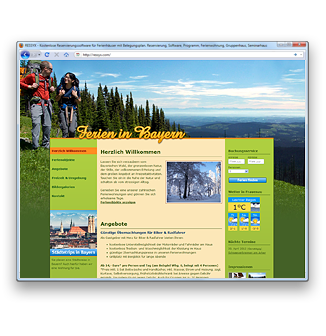 Do you manage multiple objects? We create a portal with your objects for you, with integrated RESSYX. Contact us and find the best solution for you!

Our reservation system is
efficient, clearly arranged and easy to use
for everyone.

Get an
overview of several rental objects
, integrate an
occupancy calendar for your website
and even create and send bills directly to your customers.

The proven
SSL encryption
secures the connection between the browser and RESSYX.

RESSYX also offers an
efficient customer management
system for creating customer groups or even make comments to previous payment behaviour.

Daily database backups
keep your data well secured in our reservation system.
RESSYX is
accessible 24 hours a day
, accepts your reservations and still lets you control everything.
Online booking system , Occupancy, Creating bills
RESSYX the ultimate time saver.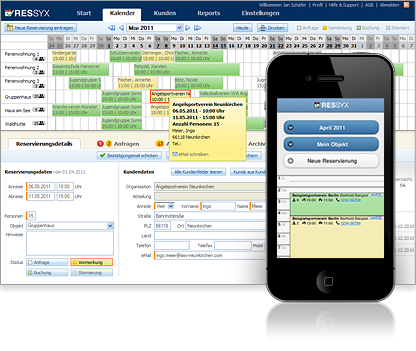 From the reservation inquiry to the actual booking.
RESSYX manages your reservation calendar and supports you in all phases of the reservation process. Even when you are not available your potential guests can view vacant rooms and make a reservation directly on your website.
The convenient customer management system always shows you the current customer information and lets you sort customers by groups and view the latest reservations. And that is not all! With the basic version of RESSYX you can manage one object (holiday apartment, room, house etc.).
Test your new reservation system now!
All reservations at a glance
Clarity is convincing – the occupancy and extensive reservations details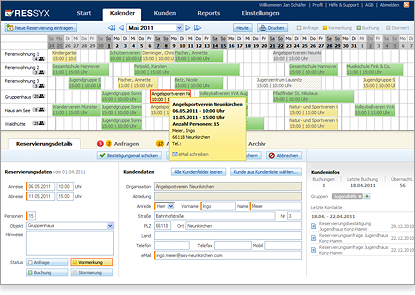 The occupancy shows you the monthly reservations at a glance. And a whole lot more. Customer names, arrival and departure times, number of persons and individual notes … everything well arranged in one view.
Create bills – Directly with RESSYX
For even more convenience with billing and reservation processes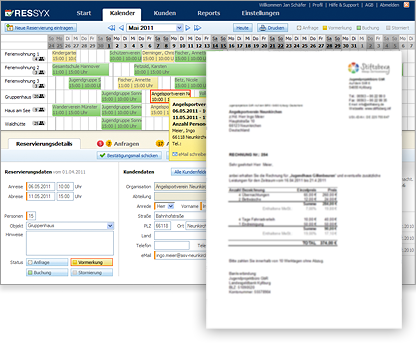 The billing feature of RESSYX allows you to send bills directly to your customers. The bill is highly customizable and therefore offers you great flexibility. Of course you can also create and send admonitions. For easy handling you can export your bills as a PDF.
Meet our customers
Theses clients saved much time using RESSYX
Customer feedback
What our customers say about RESSYX
"We are very satisfied with the booking system. The application easy to use."
Stefan Keibe
Deutscher Alpenverein Sektion Meiningen
"If you have a problem and you are stuck the RESSYX employees always find a simple solution very quickly."
Stefan Fuchs-Marquedant
Landesjugendwerk der AWO Landesverband Saarland e.V.

"All objects at a glance, direct access to the requested month without having to turn pages and four separate booking statuses available."
Toralf Röhr
Ferienanlage Steintal